How to Boost Online Sales Like Nike
Want to know how to boost online sales like Nike? 
They grew their online sales by 82% in one quarter after launching their mobile app.
In today's e-commerce landscape a mobile app is a great way to edge out your competition and boost online sales by giving your customers easy access to all of your offerings. 
Nike is a well-known global brand that sells a variety of athletic products, from shoes and clothing to accessories and equipment. Founded in 1964, the company has grown into a multibillion-dollar enterprise with a strong online presence.
The Need for a Mobile App
A Shift to Mobile Devices
With the rise of mobile devices, more and more people are using their smartphones and tablets to shop online. In fact, studies have shown that mobile e-commerce sales account for more than half of all online sales. 
This is primarily due to Mobile Apps converting customer sessions to sales 3x more often than when a customer browses your website on their mobile phone. This makes mobile apps a great strategy on how to boost online sales
Some of the biggest brands in the world have used mobile apps to make it easier for their customers to transact with them e.g; Nike, Dominos Pizza, Walmart and Duolingo.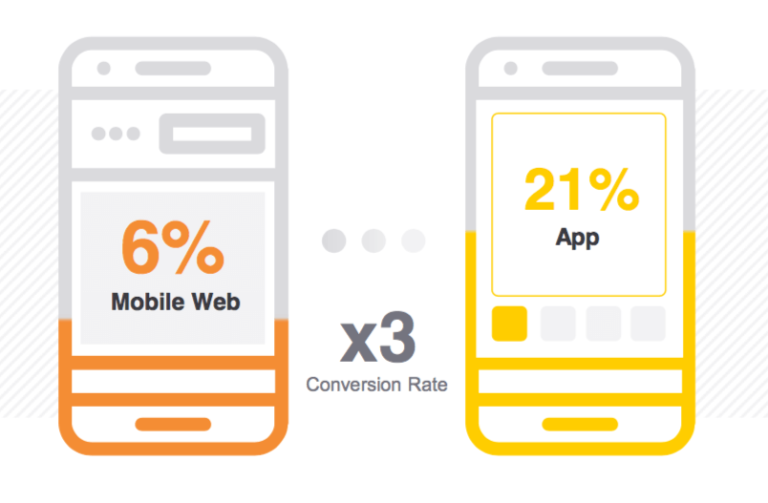 Advantages of a Mobile App for eCommerce
A mobile app offers several advantages over a traditional website. It provides a more personalized shopping experience, faster load times, and easy access to exclusive deals and products. Additionally, it allows businesses to send push notifications and reminders to customers, which can increase engagement and sales. These push notifications are opened ten times more than emails and are a major factor in how Nike boosted their online sales.
 Personalisation Options

– 

Nike's app allows users to customize their shopping experience by setting preferences for their favorite products, sports, and athletes. This provides a more tailored experience and makes it easier for users to find what they're looking for.
Exclusive Products and Discounts – Nike offers exclusive products and discounts to users of its app, which incentivizes them to make purchases through the app rather than on the website or through a third-party retailer.
Seamless Shopping Experience – Nike's app provides a seamless shopping experience, with easy navigation and a simple checkout process. It also allows users to track their orders and receive notifications when their items are shipped or delivered
Results of Nike's Mobile App Strategy
Nike's mobile app has been a huge success, with online sales increasing by 82% in the first quarter after the app's launch. Additionally, the app has helped Nike to build a stronger relationship with its customers, as it provides a more personalized and engaging experience.
Benefits of Implementing a Similar Strategy
Increased Sales and Customer Engagement
By implementing a mobile app strategy similar to Nike's, businesses can increase their online sales and improve customer engagement. A mobile app provides a more personalized and convenient shopping experience, which can encourage customers to make more purchases.
A mobile app allows businesses to build stronger relationships with their customers, which can lead to increased brand loyalty. By offering exclusive products and discounts and sending personalized notifications, businesses can create a more positive and engaging experience for their customers. 
This loyalty is something Nike capitalised on with the launch of their app. Nike already had loyal customers, so making it easier for them to purchase from Nike only made these customers more loyal. Who are your most loyal customers, would they benefit from being able to transact easier with your business?
Nike's mobile app strategy has proven to be a huge success, with online sales increasing by 82% after the app's launch. By providing a more personalized and convenient shopping experience, Nike was able to build stronger relationships with its customers and increase engagement. Other businesses can benefit from implementing a similar strategy by increasing online sales, improving customer engagement, and building brand loyalty.
Want to See an App for Your Business?
Website2App will help you scale your WordPress business by converting your website into a mobile app ready for the Apple App Store and the Google Play Store. 
To see a preview of your own mobile app, fill out the form above.
Have a question? Contact us at our support page and one of the team will respond.